The Artistic Canvas: Nail Enchantment
At Virtue Salon, we believe that your nails are a canvas for self-expression, and our talented nail artists are here to turn that canvas into a masterpiece. Whether you're looking for chic and elegant designs or bold and creative nail art, we've got you covered. Join us on this nail art journey as we share the latest trends, tips, and inspiration to keep your nails looking fabulous!
Virtue Salon in Annanagar is dedicated to celebrating the fusion of creativity and style that nail art brings to life. Join us on a journey where nails transcend mere function and become a true form of self-expression.  We are known to be the best nail salon in Chennai.
Captivating Designs for Every Mood:
Indulge in a myriad of nail art designs that cater to your every mood and occasion. From delicate floral for a touch of elegance to bold geometric patterns for a contemporary edge, our blog explores a vast spectrum of styles. Whether you're preparing for a wedding, a night out, or just want to add a pop of personality to your everyday look, Virtue Salon has got you covered.
Mastering the Art of Colors:
Discover the art of color combinations that turn nails into captivating palettes. Learn about complementary colors, contrasting hues, and gradients that give your nails a mesmerizing depth. Our experts will guide you through selecting the perfect shades that match your skin tone, outfit, and the vibe you want to exude.
Behind every stunning nail design is an arsenal of tools and techniques. Dive into our comprehensive guides on the essential nail art tools, from brushes and dotting tools to striping tapes and stencils. We'll share tips and tricks to achieve intricate designs with finesse, even if you're new to the nail art scene.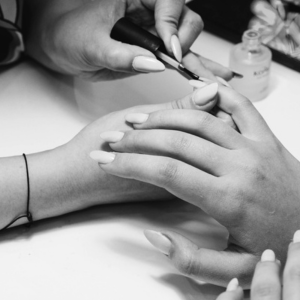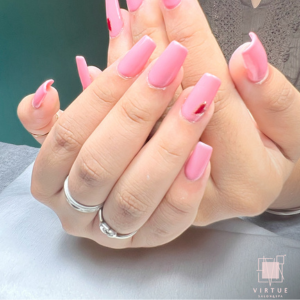 At the Artistic Canvas, we believe that the foundation of exceptional nail art lies in nail health. Explore our nurturing nail care routines that keep your canvases strong, healthy, and ready to embrace the art you'll adorn them with. From cuticle care to nail strengthening tips, we'll help you maintain the perfect canvas for your creations.
Stay ahead of the curve with insights into the latest nail art trends gracing runways and social media. Be it minimalist nail art, holographic effects, or 3D embellishments, our blog keeps you in the loop. Draw inspiration from real-life nail art stories, celebrity looks, and innovative designs that push the boundaries of creativity.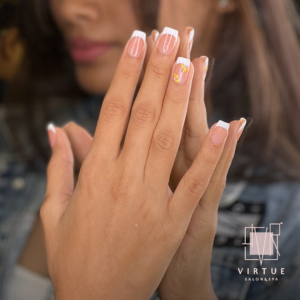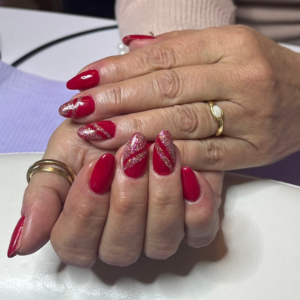 DIY Delights and Salon Wonders:
Embrace your inner artist with step-by-step tutorials for DIY nail art or visit our salon for a pampering session that transforms your nails into miniature works of art. Whether you're a DIY enthusiast or prefer to be pampered, our blog offers options to suit your preferences.
Elevate Your Nail Game Prepare to be entranced by the captivating world of nail art. The Artistic Canvas is your companion in unraveling the endless possibilities that adorn your fingertips. Express, indulge, and explore as we bring you the latest trends, expert advice, and DIY inspiration. If you are looking for a  nail salon in Chennai then look no further, Virtue salon has to be your go-to salon. Get ready to elevate your nail game to new heights and experience the enchantment of nails as a true form of artistic expression.