best hair stylist in chennai
Luxury Haircare at Its Finest: Exploring Virtue Salon's Signature Services
When it comes to pampering yourself and indulging in luxury, few experiences can compare to a visit to Virtue Salon. Nestled in the heart of Anna nagar, Virtue Salon stands as a beacon of excellence, renowned for its exceptional haircare services and commitment to providing a truly luxurious experience. In this blog post, we delve into the world of Virtue Salon's signature services, where expert stylists, cutting-edge techniques, and top-of-the-line products converge to deliver unparalleled results. Get ready to embark on a journey of ultimate hair rejuvenation and discover why Virtue Salon is the epitome of luxury hair care.
At Virtue Salon, the art of hairstyling is taken to new heights. Step into the Luxury Salon in Chennai and be greeted by a team of highly skilled and experienced stylists, who are not only passionate about their craft but also dedicated to understanding your unique hair needs. From precision haircuts to customized color transformations, Virtue Salon's expert stylists possess the knowledge and expertise to bring your hair dreams to life.
Prepare to be amazed by Virtue Salon's transformative hair treatments. With a focus on nourishing and repairing hair from within, their signature treatments go beyond the surface to restore and revitalize your locks. Explore the innovative Virtue salon chennai Healing Oil Treatment, enriched with the salon's exclusive Alpha Keratin 60ku® technology, which targets damage and strengthens hair like never before. Discover the indulgence of their restorative hair masks, designed to replenish moisture, boost shine, and leave your hair feeling luxuriously soft and healthy.
Customized Color Creations
Virtue's unisex hair salon approach to hair color is nothing short of artistry. Whether you're looking for a natural sun-kissed glow or a bold, head-turning transformation, their color experts have mastered the perfect balance between creativity and precision. Experience the magic of seamless balayage, flawless highlights, or a complete hair color makeover tailored to your individual style and preferences. With an extensive range of high-quality color products, Virtue anna nagar salon ensures stunning, long-lasting results that will make you fall in love with your hair all over again.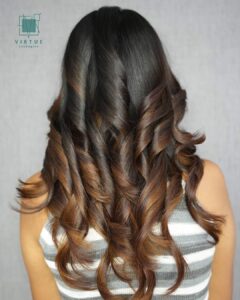 Personalized Haircare Guidance
At the best salon in anna nagar Virtue, the journey to luxurious hair doesn't end with your salon visit. Their expert stylists are committed to empowering you with the knowledge and tools to maintain and enhance your hair's health and beauty at home. Discover personalized haircare guidance, from product recommendations to styling tips, ensuring that you can effortlessly recreate that hair-curling salon-perfect look between appointments. Embrace the  Virtue Salon philosophy and unlock the secret to radiant, healthy hair every day.
Virtue Salon sets the benchmark for luxury haircare, providing an exceptional experience that goes beyond the ordinary. From the moment you step through their doors, you're enveloped in a world of expertise, innovation, and indulgence. With signature services tailored to your individual needs, Virtue Salon takes haircare to new heights, transforming your locks into a masterpiece of beauty. So treat yourself to the ultimate luxury and embark on a haircare journey unlike any other at Virtue Salon. Your hair deserves nothing less.